I admitted that I was a little hesitant about Disney marathon weekend this year since training didn't go nearly as well as planned. All that apprehension disappeared as soon as we stepped onto Disney property, though.
Being in such a happy place surrounded by runners was electrifying. I could not wait to run the half on Saturday and the full on Sunday. I'd make that Goofy medal mine!
Saturday morning started out super early. A 2:45 am wake up call, followed by pumping, choking down breakfast, and a mad dash to meet this girl at the resort's bus stop.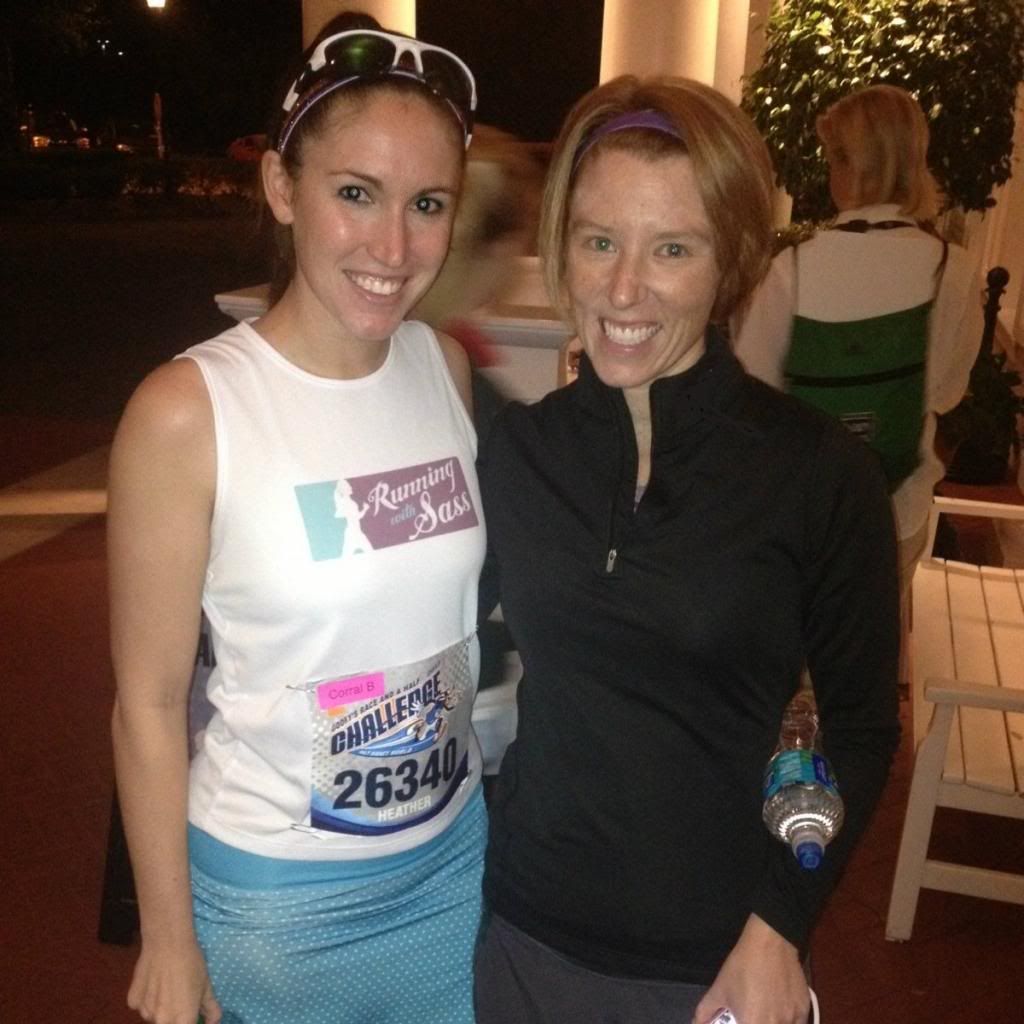 Heather and I have planned to run Goofy together for four years. I was ridiculously excited it was finally happening and may have been a little too hyper for that time in the morning.
We were on the bus by 3:45 and thought we'd have no problem making it to our corrals by the 5:35am start. After checking our bags, we headed to the corrals and it was so crowded. I'd heard around 25,000 people ran the half and it sure felt like we were surrounded by that many runners! After weaving and taking a quick bathroom break, we made it to the start of corral B in time. Phew!
Our plan for this race was to go slow. Plenty of walking, stretching breaks, and saying hi to the characters along the course. None of us cared about our times and only wanted to finish both races. Perfectly fine with me!
I ran this race much slower than any other half I've ever run and I was surprised by how much I enjoyed myself. I loved running with Heather; we literally smiled and laughed the whole way. It was so refreshing to not worry about my time. Usually I'm so caught up in my pace and pushing myself that I forget to enjoy the race. The Disney half marathon was a perfect reminder of why I started running: for fun. I mean, how could you not have fun running a Disney race? RunDisney's organization, volunteers, and entertainment are all top-notch. I highly recommend participating in marathon weekend. I promise you'll have fun!
Nope, clearly not having fun at all.
After a year of taking running and myself a bit too seriously, this race was the eye-opener I needed. I plan to add more "for fun" running events to my calendar and thinking of new ways to enjoy races without really racing (that made sense in my head…). I know racing for fun isn't for everyone; Jeff even ditched us around mile 9 of the half marathon. But I think this is the best approach for me right now.
I also learned another important lesson: it's hard to run slow! I was super tight after this race and I know it's because I was on my feet longer. Ouch.
In the last few miles, Heather and I strategized how we'd approach the marathon the next day. We had a plan and were both feeling pretty confident that we'd earn that Goofy medal.
We proudly finished the half in 2:41:09.
Unfortunately, I never got a chance to attempt the marathon. Saturday afternoon, Wyatt had what we thought was his worst FPIES reaction yet (days later we found out it was norovirus- unfortunate but much better than a reaction) and we spent the night in the ER. I was bummed about the race, but I'm a mom first and there was no way I could leave my ill son to go run.
I was able to cheer on Heather and Bobby as they ran the marathon, though, and they did awesome!
Still smiling at mile 24!
I'll get that Goofy medal one day. Until then, I'm already brainstorming how I can fit another runDisney event into my race schedule this year!